The Eloqua platform offers many features and one of my favourites is Dynamic Content. It offers the ability to have a single email with different dynamic modules that allows you to output multiple email variants based on your data set. It saves you from having to build different email assets and focuses your efforts on customer personalization.
I have been using Dynamic Content in Eloqua for 8 years now and there have been highs and lows.
A high has been using it within the deployment of a Price Chance campaign. I had four email assets and was able to output 32 different variants for customers based on their product holdings and subscription status. It is much easier to manage 4 emails with dynamic rules built into them than having to deal with 32 different emails.
The low point has been the painful way I've had to report on dynamic content emails using custom insight reports and filters for different customers. Eloqua provided a useful feature but no way to natively report on dynamic content until recently.
A Case for Dynamic Content
I recently provided a recommendation document to one of my clients and encouraged them to use Dynamic Content to reduce the number of email assets they created. Happy as they were, resistance came from reporting teams. They wanted a breakdown and metrics for each variant of the email which they felt Eloqua could not provide.
I had a look online to see if there had been any new developments in this area and VOILA!, there it was in the 19C release. From time to time, Eloqua does deliver features on customers' wishlist. This is a nice treat for marketers. Check out Eloqua's documentation on this.
The report is available in Eloqua Insight and provides you with the email asset breakdown. The report includes the dynamic content name, the rules within that block, and metrics for each of the rules.
FINALLY….

Setting up Dynamic Content In Eloqua
To get the best out of the insight report, it is advisable to name your dynamic content blocks in a logical way. This will allow you to derive insight from the resulting report. There is no point putting in the effort to personalize customers' emails if you don't understand the report generated.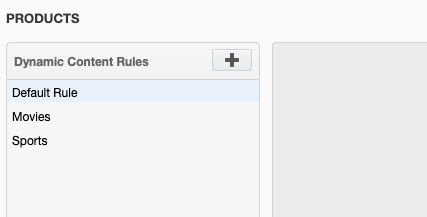 Eloqua Dynamic Content By Email Report
The report gives you a clear breakdown of the name of the dynamic block and all the rules within it. This is why having a clear and logical naming convention will help you in understanding what the report is saying. You can also modify the default report to include additional metrics for your business needs.

Summary
Setting up Dynamic Content can be time-consuming in the beginning but you will reap the benefits later. The key is to have a plan for your communication strategy and the type of emails customers need at different stages of their lifecycle. You can have a Welcome Email with 20 or more dynamic blocks to cater to customers with different products and subscriptions. And all variants can be can easily be represented within your reporting. This saves you the headache of having to update multiple email assets.